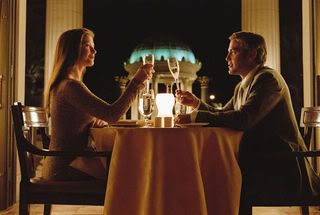 Intolerable Cruelty is one of the Coens more commercial films and is seemingly underrated. I think this is largely due to the script actually being written by three other writers, not the Coens themselves. Miles Massey (George Clooney) is a well-established divorce attorney. He even has a marriage contract named after him: The "Massey pre-nup", which is reportedly impenetrable. At the top of his game, Massey is bored with his job and accomplishments. He is also smitten by the foxy Marylin Rexroth (Catherine Zeta-Jones), who is in the process of divorcing her husband in the hopes of acquiring a hefty alimony. Massey has been hired by Marylin's train-loving husband (Edward Herrmann) to represent him. When all is said and done, will these two opposites attract or repel?
The film is a dark romantic comedy and deals with such themes as love, revenge, and ultimately, power. The characters in Intolerable Cruelty are perfectly cast. George Clooney, channeling Cary Grant, and Catherine Zeta-Jones, the femme fatale, have a dynamic on-screen chemistry from day one. Clooney's character is also similar to the character he plays in the Coens' O Brother Where Art Thou? In that film, Everett is obsessed with his hair, and in this one, Miles Massey is obsessed with his teeth. In one interview, Clooney claimed his characters in these two films are part of the "Idiot trilogy", which will conclude with Hail Caesar (a new project from the Coen Brothers, now in pre-production).
Even the supporting characters are played well, with great performances from Geoffrey Rush, Cedric the Entertainer, Paul Adelstein, Billy Bob Thornton, Edward Herrmann, and Richard Jenkins. Each character is unique and contributes to the overall story. Intolerable Cruelty is a step back to the older screwball comedies where Katherine Hepburn, Spencer Tracy, and especially Cary Grant reigned. It's witty and intelligent, while at the same time being off-the-wall with a dark dash of the Coens tossed into the mix. Although the script is written by other writers, there is still a clear Coen feel throughout the film, especially with the opening scene and Wheezy Joe.
There are times in the film when the Coens seem to rely too heavily on plot devices to move the story forward, but it ends up being an enjoyable film, one that I enjoy watching again and again.