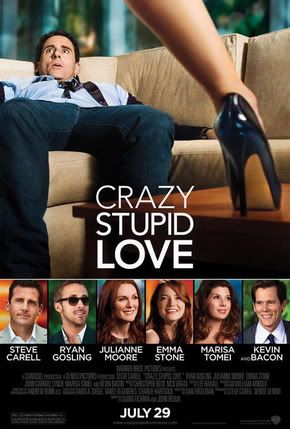 Crazy, Stupid, Love is a romantic comedy released in 2011 directed by Glenn Ficarra and John Requa(I Love You, Phillip Morris) who are new to the directing game as they mostly do writing and they are fairly new at that as well. The film stars Steve Carrell(40 Year Old Virgin, Date Night), Ryan Gosling(The Notebook, Lars and The Real Girl), Julianne Moore(The Big Lebowski, Boogie Nights), and Emma Stone(Zombieland, Easy A).
The film mostly centers around Steve Carrell's character, Cal Weaver and Julianne Moore's, Emily who is Cal's wife. Over dinner Emily tells Cal that she wants a divorce because she slept with another man and this only begins the rollercoaster of emotions that Cal will go through during the course of this film. Cal moves out of that house and grants his wife the divorce saying that he will sign whatever she wants him to sign. Cal starts hitting up the bar scene trying to drown his sorrows in alcohol and continues to whine to everyone about what has happened to him. A young man, Jacob Palmer(Ryan Gosling) sees this night after night at the bar and begins to feel sorry for Cal. Jacob is a womanizer and always takes a different girl home from the bar each night. Jacob offers to teach Cal all of his tricks and in doing so Jacob says this will make Cal's wife see that she never should have hurt him and it will make her want him again. Cal goes along with it and Jacob helps him buy him a completely new wardrobe and changes Cal's look completely. Cal begins to watch Jacob every night at the bar and learns exactly what Jacob does and then puts it to work and begins to also take women home on a nightly basis. One night Jacob takes home a girl, Hannah(Emma Stone) and this is when everything begins to change for Cal. This triggers an even bigger turn of events and one of the best twists I have ever seen in a rom com. A twist that I am not going to reveal to you and spoil the film. You must go see for yourself.
The acting in this film was brilliant. There wasn't a single role in the film from the main actors down to the supporting actors that I didn't absolutely love. I'm really not a huge fan of Steve Carrells but this is easily his best role or at least my favorite to date. He delivered a little bit of everything in this film and that's not normally something we see from him. Ryan Gosling, an actor that I have always found to be highly underrated, was again great in this film. He played the role of the womanizer to perfection and yet he still had a genuine demeanor behind the womanizing and the pick up lines. The man truly can act and I hope he starts getting more of the credit that I feel he deserves. Along with all of these great performances was another remarkable one given by Emma Stone. This girl right here is a very promising young actress and she has been one that has delivered remarkable performance after remarkable performance. We saw her shine in what was her breakout performance in Zombieland which was only to be outdone by her role in Easy A. I won't go as far to say that this performance was better than her performance in Easy A but it's not a step down from that performance at all. She just continues to deliver and I look forward to her being around for a very long time!!
One of the most surprising things about this film for me was that it was made by people that haven't really been around much and yet they were able to get such a strong cast and put together such a good film. The directors Ficarra and Requa have only directed one other film in I Love You, Philip Morris, a film that I didn't really care for so I didn't have much to go off of for these two. Even as far as writing goes they don't have a whole lot of experience with only having a few films under their belt including I Love You, Phillip Morris, Cats & Dogs, Bad Santa, and the remake of Bad News Bears. So again I will state there isn't much experience here and not very solid films on their resume. Dan Fogelman was the writer on this film and he put together an awesome script but again there isn't much experience there as he has only wrote Cars, Fred Claus, Bolt and Tangled all childrens films. Despite the inexperience of the three men working on the film the script was well done and the film was put together perfectly.
I had seen the previews for this film and I thought it looked good but it was a film that I was afraid would not be very good and all the funny parts would have been in the trailers and it was going to be something we had already seen before. I also wasn't too sure about Steve Carrell cause again he has been so wishy washy with me and he hasn't really been one of my favorites although I did love him in 40 Year Old Virgin. But it was a film I did want to see because I pretty much have to see anything that Emma Stone is in cause she is indeed one of my favorite actresses today. Much to my delight though I found this film to be surprisingly delightful and absolutely hilarious. It was a film that totally pulled me into it from the very beginning, it made me fall in love with the characters and feel every emotion that they were going through. I felt everything from the heart break that Steve Carrell felt many times in the film, to the excitement when he started being a ladies man, to the anger and hatred towards the guy that his wife cheated on him with, played by Kevin Bacon, this is very evident in one particular scene in which so many different things happen it was unbelievable. Every emotion was felt in this movie and I love a film that allows me to fall in love with characters so much that I feel everything that they are feeling in the film. This film was a total surprise to me as I had expectations for it but they weren't set near high enough. The film delivers a fantastic twist as well which is something that you don't typically get with a romantic comedy and again was a total shock to me. I promise you it is something that you won't see coming it was totally out of nowhere. As of right now this is definitely one of my favorite films from 2011, not that this year has really been overly remarkable for film as of yet. But this film is definitely right up there and it's a film I know many people would enjoy. Definitely not a film to go see with the guys though so men out there take a girlfriend, spouse, or a friend that is female and it'll be a hit with you and them.
4.5/5