Adventure/Comedy/Remake | rated PG-13 (L,V,G) | starring Hailee Steinfeld, Jeff Bridges, Matt Damon | written & directed by Joel and Ethan Coen | 1:50 mins | The following is from an advanced screening of the film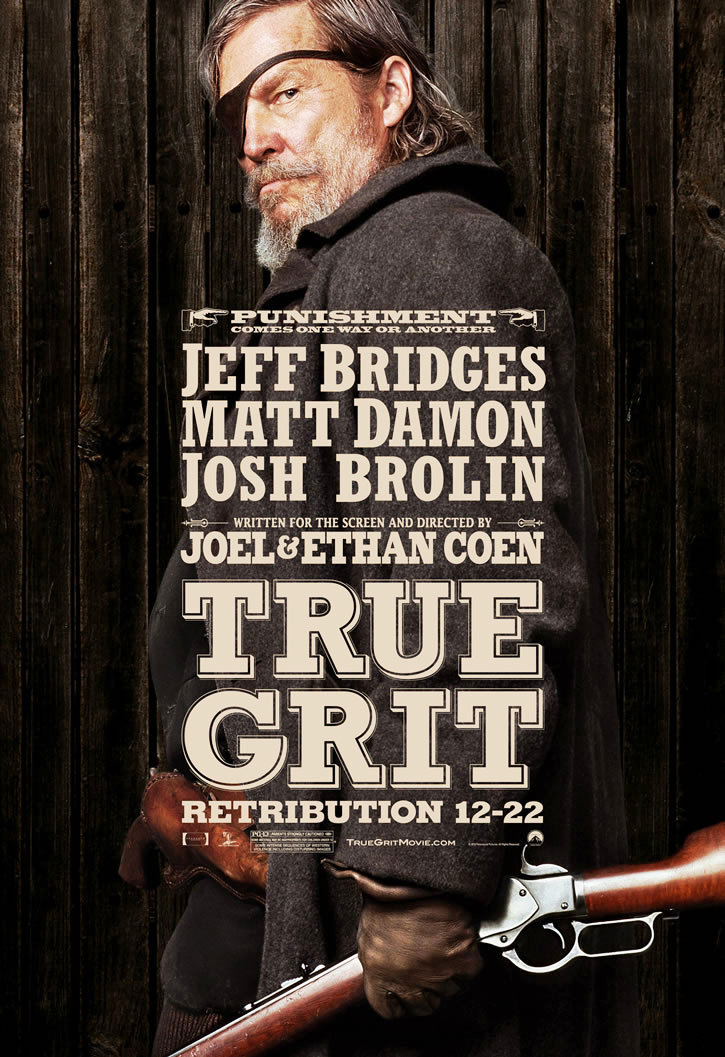 After her father is killed, 14-year-old Mattie Ross (introducing Hailee Steinfeld) single-handedly embarks on a quest to bring his killer (Josh Brolin) to murderous justice by hiring the meanest marshall in town, Rooster Cogburn (Jeff Bridges). The hesitant, slovenly Cogburn hits the trail with Ross and less-worldly Texas Ranger LaBoeuf (Matt Damon, pronounced LaBeef) to find the outlaw Chaney, but things get more complicated when they suspect Chaney may have fallen in with a gang from Cogburn's past.
I don't know much about the original John Wayne movie True Grit, but I do know the Coen brothers. Having come off of their next-level, modern reinvention of the western with the masterful No Country for Old Men, Grit let's them take a pass at a traditional Western. But unlike the deadly serious No Country, this classic tale of rough-riding, blood-thirsty revenge is approached by the duo with their trademark droll, deadpan quirky sense of humor. The end result is an entertaining movie, but more an excuse to get the gang together and have some fun with their latest scriptwriting experiment then a Coen masterwork that slams it out of the park.
What is A+ here is the acting, which is terrific all around. Young Steinfeld carries the entire movie from the very beginning. The dead-eyed tenacity, sharp tongue and ability to talk her way into whatever she, all that she brings to the character, puts her in a league with the veteren actors she stands shoulder to shoulder with. It's a Best Actress worthy performance. It isn't a quarter of the way through in a scene involving a horse and a river where I became sure that she is the inspiration for the title.
Always terrific and fully in character is Bridges, who plays Cogburn a little of his own The Dude (if his vice of choice were whiskey), a little Karl Childers and a little Jack Sparrow. It's a fun and odd mix of slobby, quirky and violent and you're never quite sure if he's hero material. He's a master at pulling off the Coen's go-to joke: stating the glaringly obvious in the driest way possible. Completing the triangle is Matt Damon, in the most quintessentially Coen character, a cartoon-like characature of a more "proper" Texas Ranger out of his element on the open range. The banter between Cogburn and LaBoeuf is borderline hilarious and, next to Steinfeld talking a shopkeeper out of a horse, my favorite thing in the movie.
Just when you think, Grit is spinning it's wheels, again caught in a cycle of "does Cogburn want to do this" or "will they let the girl come along", the movie takes a sudden and unexpected turn that puts in on a fast track, quickly truncating the journey and folding it's characters toward the climax. Grit is more streamlined than the usual Coen brother film, more accessible too. But as with Burn After Reading I feel like I've seen and laughed at these jokes before. Making Grit feel like a well-acted, beautifully shot framework for the same warmed over Coen brother comedy we always get from them. Though far better than Reading, it still feels strained to me this time.
Even if I don't love all of their movies, I always admire their experiments and don't-give-a-damn attitude that doesn't try to please everyone. But fans of the Coen's genre-breaking may find True Grit dissapointingly within the lines. It doesn't break out of itself to become an outrageous new animal, but it is an entertaining, simple, straight-forward genre picture made with talent. And that can be just right too. At this point I was delighted to see that this film actually had an ending.