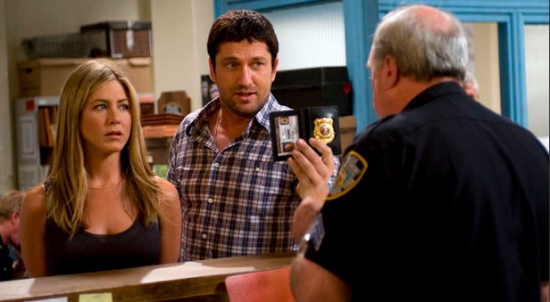 The romantic-comedy genre has been played out a million times, but that still doesn't stop directors, such as Andy Tennant, from making terrible movies that star actors who have no business acting in the movie.  Such is life for The Bounty Hunter which stars Gerard Butler as the bounty hunter who accepts the job of arresting his ex-wife, Jennifer Aniston's character, for a medium sum of money.  While in the midst of locating and capturing his ex-wife, Butler's character gets wrapped up in a police conspiracy that Aniston's newspaper reporter character is trying to unravel for her next big story.
That's the jest of it, ex-couple forced to cooperate with each other to nab the bad guys, in the process falling back in love with each other.  No spoilers here, it's the age old secret of making a rom-com with a little bit of action mixed in.
The plot is full of holes and nobody really seems to care, Butler and Aniston just keep going about their business as if acting like a real cop but not really being a cop won't get you into any kind of legal trouble what-so-ever.  Nevermind that fact that a prominent reporter, such as Aniston's character claims to be, would risk losing her job for a low level story of some suicide cover-up for murder plot she's trying to uncover.
I won't even get into Gerard Butler's career going the way of the woolly mammoth every time he goes and does a romantic comedy that nobody cares about.  It's been a long journey from The Phantom of the Opera and 300.
To sum things up…which could have been done in two paragraphs or less…I wouldn't recommend this movie under any circumstances.  Unbearable doesn't begin to describe my anguish while watching it.