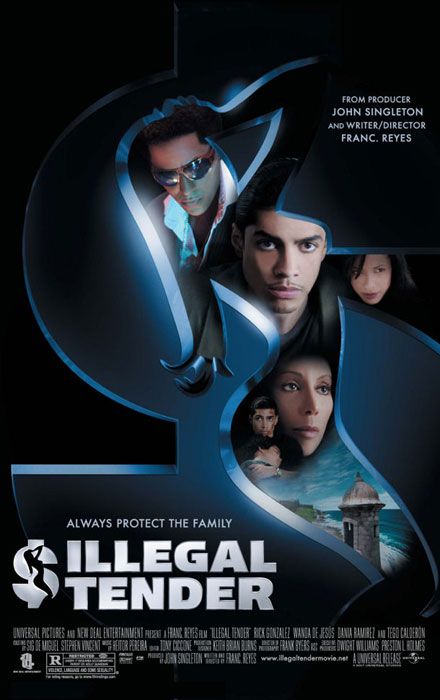 To be quite honest, I don't speak fluent Spanish despite growing up in a Hispanic neighborhood called Sunset Park in Brooklyn, NY.  It consisted predominantly of Puerto Rican, Dominican, Cuban and Mexican families, some of whom became my best friends to this day.  I understand and appreciate a lot of the culture, food and oh yeah the women.  Although Illegal Tender has all of this, judging from the trailer I saw for it, I was expecting a lot more. 
            The story written and directed by Franc Reyes starts off in none other than the borough of the Bronx in New York City which wasn't surprising at all due to this is a Puerto Rican driven film.  The Bronx is basically little Puerto Rico so it was quite fitting.  Wilson DeLeon (Manny Perez) is a drug dealer who works for mob boss Javier Cordero (Gary Perez) and is also trying to support a family consisting of his pregnant girlfriend.  During a deal in which he was set-up, he gets shot and killed without explanation.  The night he dies, his son is also born.  We fast forward about 21 years and find Wilson DeLeon Jr. (Rick Gonzalez) in college with a 4.0 GPA and living rather comfortably with his mother Milie (Wanda De Jesus) and his little brother Randy.  His girlfriend, Ana (Dania Ramirez), and he are very much in love and attend the same school.  He has his occasional quarrels with his mother about her love interests and life decisions but in general, life seems pretty good.  That is, until Millie is spotted one day at the grocery store by a face from the past.  She quickly hurries home and begins to pack.  Wilson confronts her about always moving every couple of years and finally hears the true story about his father, his occupation, murder and their lives since.   
Determined to not be scared out of his home again, he stays and lets his mother go.  After being attacked the same night by a couple hitmen, he decides to travel to Puerto Rico and confront the man him and his mother feel are responsible for their disheveled lives.  That man being his father's former boss Javier Cordero.  His meeting with Cordero doesn't go over very well leaving him with a couple of bloody souvenirs to take back with him to America.  Now he and his mother must make a decision; keep running away for the rest of their lives or face this problem that won't ever go away head on once and for all. 
Although this film is filled with new and veteran Hispanic actors including an appearance from reggaeton superstar Tego Calderon, the Puerto Rican culture and scenes shot within the island are the real stars.  It leaps off the screen and gets  the audience in tune with the island night life and how proper Spanish is supposed to be spoken.  This movie showcases it all, especially a very good brand of latina women.  Needless to say, that aspect might have been my favorite part. 
The acting and direction was okay at best.  No Oscar worthy nods contained here but it did have an easy to follow story line.  I expected a lot more action and gunfights however.  Judging from the previews I saw for this film, I thought it would be pretty much centered around a lot of gunplay.  The scenes contained in the previews were pretty much all there were.  No jump out of your seat action sequences here either. I was kind of disappointed about that.  Having said all of that, I give Illegal Tender "2.5 good looks at Puerto Rican culture out of 5".