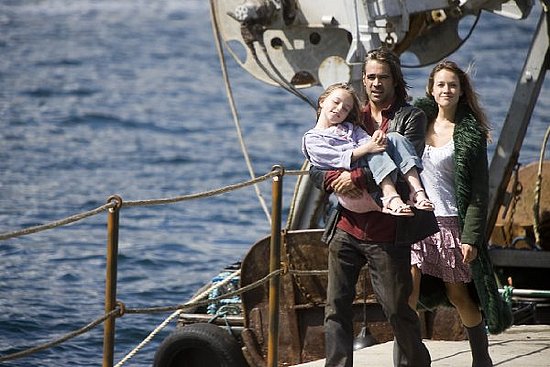 Have you ever heard of selkies (AKA silkies or selchies)? They are mythological creatures found in Irish folklore. A selkie is similar to a mermaid. They are part human and part seal. A selkie can become human by taking off their seal skins and return to seal form by putting it back on.
Selkies take center stage in the Irish movie, Ondine, which is written and directed by Oscar winner and fellow Irishman Neil Jordan (The Crying Game). It stars a shaggy-looking Collin Farrell, also born in Ireland, as a fisherman.
Ondine was nominated for an Irish Film and Television Award (IFTA), Ireland's version of an Oscar award, for Best Film. Collin Farrell would win an IFTA for Best Actor in a Lead Role, while Neil Jordan would be nominated for two IFTA's – Best Director and Best Script.
One day while working on his fishing boat, Syracuse (Farrell) would discover that not only did he catch some fish, but he also netted a mysterious beautiful woman who calls herself Ondine (Alicja Bachleda). Not wanting to be seen or treated medically by anyone, Syracuse whisks Ondine off to a secluded house that use to belong to his mother.
Of course, it is not long before Syracuse starts to fall in love with Ondine. Syracuse's nets and cages overflow with fish and crabs one day when Ondine accompanies him on his fishing rounds after she sings a beautiful song. This leads Syracuse to begin to speculate that maybe Ondine is indeed a legendary selkie.
After Ondine is found by Syracuse's ill-daughter Annie (Allison Barry), the two of them become quick friends and Annie really begins to believe that Ondine is a fairy tale creature from the sea.
Eventually, a brutish looking man shows up in town looking for a woman that matches Ondine's description. So, is Ondine really a selkie or is she just a woman with a dark secret?
While Neil Jordan's script gets a little too sappy at times and it moves at a snails pace at other times, the comical back-and-forth talks between Syracuse and his priest (Stephen Rea, V for Vendetta) are entertaining enough to makeup for these shortfalls.
Neil Jordan does a wonderful job of getting an endearing performance from newcomer Allison Barry. Even though Annie is stuck in a wheelchair awaiting a kidney transplant, she has real spunk. For being so young, Annie is a determined fighter. Allison Barry lights up the screen in every scene she is in.
Thanks to Neil Jordan's skillful direction, Collin Farrell even has a few moments of fine acting. You know you can direct if you can make Collin Farrell look good. Little-known Polish actress Alicja Bachleda looks great, but her acting doesn't match her beauty.
The cinematography work of Christopher Doyle is top-notch. He masterfully captures the rolling green hills and stunning sea that shows why Ireland is such a beautiful place.
While Ondine is too-mushy at times and a little slow moving at others, the pursuit of the truth behind Ondine's true identity draws you in and makes it all worth it.
Ondine opens in the U.S. on June 4, 2010 as a limited release.