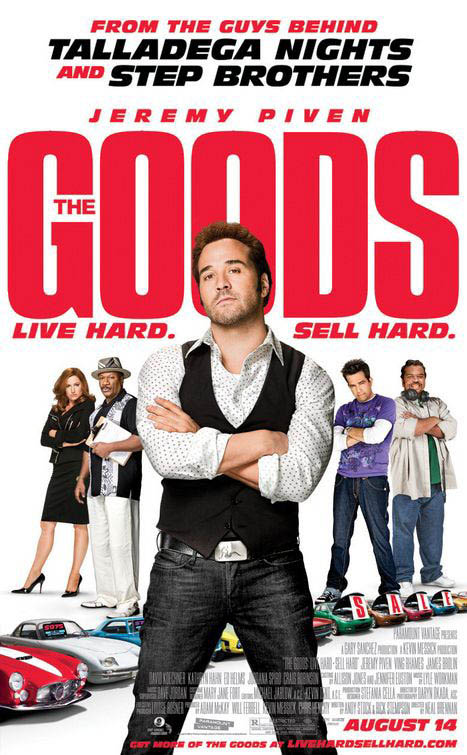 We've all been there at one point or another in our lives unless you are the fortunate few who are super duper rich: a used car dealership, whether a well named one or a low end struggling one.  "The Goods: Live Hard Sell Hard" is a comedy about the latter.  You know that dealership down the street that's usually losing business to the other dealerships that have inventory which contain brand new, luxury, exotic vehicles that you will hammer you in the head and heart with interest rates if you even look in their direction while driving by in your own broken down heap.  That's the one; this one is called Selleck Motors.  No, not Tom Selleck but owned by Ben Selleck (James Brolin), and this dealership has run in his family for years and years and you get the idea, right?
            Selleck Motors is on the way down, pretty fast and pretty hard.  The sales personnel can't make a sale to save their life and are at their wits end, literally.  Many of them wander around the lot aimlessly like used car zombies.  Wanna get cars sold and save your business which is sinking faster than the Titanic with cement shoes?  Call in Don Ready (Jeremy Piven), a fast talking, quick thinking, used car sales genius and his team, played by Ving Rhames, David Koechner, and Kathryn Hahn.  They specialize in selling cars and have never failed at getting them out of the lots of dealerships that can't do it alone.  They have one Fourth of July Weekend Sale to do it in.  From the time they set foot on the lot, it is game time and full force, no holds barred salesdom.  They turn the staff from lowly nobodies who before probably couldn't sell a free house to a homeless person into "go get it and don't come back until you do" tyrants. 
            The first couple of days go great but they hit a snag half way through the weekend.  The cars aren't getting sold to Ready's liking.  He also faces some distractions in the form of Selleck's daughter, Ivy (Jordana Spiro) who he develops feelings for, her fiancée Paxton (Ed Helms) who also runs a dealership with his father and is the lead singer in a "Man Band" that he hopes to take global and a troubled, unexplained used car selling event from his past that he doesn't wish to share with anyone.  During the dealership's snag in sales, Paxton and his father make an offer to Selleck to buy his dealership from him so Paxton can use it as a rehearsing spot for his band, which opened for O-Town, "You can google it".  Not liking this idea at all, Ready guarantees Selleck that he can sell every car on the lot by the end of the weekend or he will get out of the game of selling used cars and Selleck can sell his dealership to Paxton.  This sets up the remainder of the story which plays out with outrageous laughs and tells the story of Ready's unknown past.
            Will Ferrell helps produce this nutty comedy and it plainly shows.  It has a lot of Ferrell-esque material that we have come to know and love.  He also makes an appearance as one of Don Ready's good friends who has a part in his unknown past.  Director Neal Brennan, who also helped write and produce "Chappelle's Show" does a great job at the helm and his involvement, along with Ferrell's, explains a lot of the comedic material in this film.  Jeremy Piven has always done a great job in a fast talking, hustling sort of role ala "Smokin' Aces" and "Entourage", so he shines in his lead character part here.  Seeing Ving Rhames do comedy always feels new to me, but it's always a good feeling, showing he can be a multi-aspect actor.  Kathryn Hahn is a sex-crazed female who is not afraid to show it, reminiscent of her role in "Step Brothers" but a lot more "out there" in this film.  Rounding out the rest of the cast are unorthodox characters like Selleck's son, who is a ten year-old in a thirty year-olds body, played by Rob Riggle. He is also the target of Kathryn Hahn's character, Babs, lust.  Another head scratcher is David Koechner's character, Brent, as the target of someone else's lust.  But not someone he'd like to be with like that.
            Overall, this movie was a good mix of a believable story combined with some crazy events and hilarious dialogue.  Like other Will Ferrell and Neal Brennan projects, some of the content is random and rapid fire but that is what makes it so funny.  Of course no topic is spared and even less are sacred.  Touching on and making fun of everything from race and stereotypes to strong sexual references and good old fashion family values, this movie goes there with all of them.  Looking to see what a struggling car dealership that needs your sale goes through and want to get some laughs in along the way? Then check out "The Goods: Live Hard Sell Hard".  I give it "3 used cars out of 5".  "Don, I don't mean to complain but it's been a year and a half since I've been home and I'm 90% sure I left my front door open."