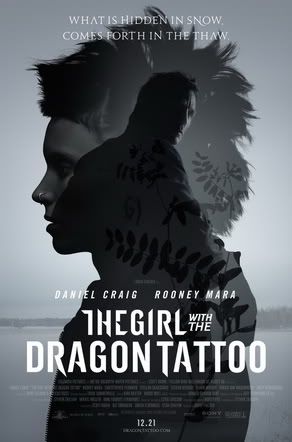 The Girl With The Dragon Tattoo is the American adaptation of Stieg Larsson's great book of the same name and is directed by one of my personal favorites, David Fincher. There was also a Swedish language adaptation back in 2009 that I have yet to see but have wanted to since it was released. This film stars Daniel Craig, who is best known as the new James Bond, and virtual newcomer Rooney Mara, who has appeared in some smaller roles in films such as The Social Network and Nightmare on Elm Street.
The film follows Mikael Blomkvist(Craig), an investigative journalist and writer for Millenium magazine, as he tries to solve a 36 year old mystery of a missing girl, a girl who the family believes to be dead. Blomkvist is hired by Henrik Vanger(Christopher Plummer) to write his memoirs and use the information he gave him for the memoir to uncover the truth about his missing great niece. Blomkvist finds this to be a rather difficult mystery to solve so he enlists the help of computer hacker, Lisbeth Salander(Rooney Mara) who just so happens to be the same person Vanger used to investigate into the life of Blomkvist before Vanger hired him. Confused yet? It is so much easier to follow while watching the film than it is to try and explain it without giving out too much detail. If you have read the book you already know how complex the story is. The film has it's main story of the case that Blomkvist and Salander are trying to solve but there are so many things going on in the background as well and it is exciting to see it all portrayed by all of the great actors in the film.
The acting in the film top to bottom from the leads, to the supporting actors, all the way down to the small roles that don't have a huge impact on the film was great. I don't know how David Fincher is always so great at putting together a great cast as an ensemble but he did it with last years The Social Network and he did it again with this film. Starting at the top, Daniel Craig and Rooney Mara were not only great as a unit with very very good chemistry but they were also great as seperate entities. I think this could be the most complete performance of Daniel Craig's career and my new favorite role of his. This time of year being award season we are hearing a lot about nominations and who is worthy. Winning the Oscar may be a long shot for Craig but he most definitely deserves a nomination. His portrayal of Mikael Blomkvist was no worse than Dicaprio's portrayal of J. Edgar and in fact I may slightly lean towards Craig in that comparison. Craig was very believable in this role and in some of the more emotional scenes he was spot on. He did enough to keep me entertained and to keep me interested in this character. The star of the film though has got to be Rooney Mara. This woman is a star in the making and she is only going to get better after this role, a role in which she will be nominated for best actress and she may march right into the Oscars and steal this one away and she was so good I would be ok with that no doubt. Every scene that Mara was in I was at the edge of my seat wondering what she was going to do next. I know a lot of that weight is carried by the character of Lisbeth Salander in general, but Mara's portrayal and the angst that she brought with the skill that she possesses in acting was incredible. Christopher Plummer, Stellan Skarsgard, and Robin Wright, just to name a few of the supporting actors in the film were great in the film and fed the leads perfectly in the film.
David Fincher is easily in my top 5 of favorite directors today and all time. He has brought us some of my favorite movies of all time including Fight Club which is in my top 4. But it isn't just Fight Club that he has brought us, he has brought us other great films in the form of Seven, Zodiac, The Curious Case of Benjamin Button, and last years The Social Network. He is a perennial force to win big during award seasons and is awarded many nominations year in and year out. In my opinion, this year won't be any different. The Girl With The Dragon Tattoo will most definitely be nominated for Best Picture and Best Adapted Screenplay along with Fincher for Best Director, Craig for Best Actor, and Mara for Best Actress. Not to mention some supporting actor nominations that it could garnish or other technical awards that I don't dive into too much. David Fincher gives me hope for the years to come that maybe the movie industry won't be full of remakes and sequels totally because I know this guy will continue to bring us great and original films that won't let us down.
The Girl With The Dragon Tattoo is easily one of my favorite movies of 2011 and I think it is going to garnish many award nominations come award season. I have yet to finish the book as I am probably about a third to a half way into the book so I can't comment on the translation from book to screen. I have always enjoyed the story and I loved seeing the story unfold on the big screen. I'm sure David Fincher did it justice, I know he only made me want to finish the book that much more. The acting was incredible. The actors alone had me sitting on the edge of my seat wondering what they were going to do next. With a two and a half hour runtime you wonder about dead time and moments in which the film kinda bores you a bit but even with that runtime I was never once bored. I was always interested in what was going on and wondering what was going to happen next. In many ways it almost feels like you were in the theater even longer than you actually were but the film was so great and it pulled me in so much that it was ok by me. I wish the film could have kept going. I highly recommend this film, it is definitely a must see and one of the best movies of 2011.