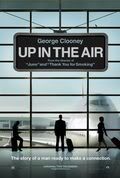 Up In The Air is the next film to be added to the short but brilliant list of movies that Jason Reitman has directed. Reitman has brought us Thank You For Smoking, one of my all-time favorite comedies, and Juno, probably one of the biggest surprises of 2007. Up In The Air appears to be heading in the same direction as these two films but on a higher level perhaps. The film stars George Clooney (Oceans Eleven, Burn After Reading), Vera Farmiga (The Departed, Orphan), Anna Kendrick (The Twilight Saga, Rocket Science), Jason Bateman (Juno, Hancock), a small appearance from Zach Galifianakis (The Hangover), and a small appearance from the legend, Sam Elliot (The Big Lebowski, Tombstone). It has recently been nominated for six awards at the Golden Globes including, Best Picture (Drama), Best Actor (Clooney), and Best Director (Reitman).
The story is about Ryan Bingham (Clooney), to put it bluntly, a man that fires people. Companies hire Ryan's company to fire their employees when they don't have the guts to do it, a job that can be quite tough at times because you don't know how people are going to react when they are fired. Ryan also lives a rather secluded life with virtually no personal relationships with anybody. He is a man that spends the majority of his life on an airplane and in fact starts to call it home. During one of his trips, Ryan meets a woman, Alex (Farmiga), who also travels a lot and he comes to find out is a lot like him. Ryan and Alex begin a "casual" relationship. Ryan gets called back to Omaha, where his company's office is located. His boss (Bateman) introduces him to the newest employee, Natalie (Kendrick), who has brought along some new ideas that will help reduce the travel expenses that the company is forking out. This doesn't sit well with Ryan whose whole life has been revolved around never being home. He argues that Natalie knows nothing about firing people or how to deal with certain situations that arise while firing people. His boss decides to send Ryan and Natalie out on the field together so Ryan can teach Natalie. Natalie questions Ryan's lifestyle choice and wonders what's going to happen as he gets older and he winds up all alone with nobody around that he loves. This is a realization that grows even more of a problem in Ryan's mind as the thought of not traveling all the time creeps in. Ryan himself starts to question his secluded life style and tries to reach out to family and people he has become acquainted with in recent years in an attempt to find those relationships that he desires.
The cast as a whole, which was handpicked by Jason Reitman while writing the script, was perfect, a cast that so far has garnered one Best Actor (Clooney) and two Best Supporting Actress (Farmiga and Kendrick) nominations at the upcoming Golden Globes. They all worked well together and really played off of each other. Even the small cameos that are in the film, Zach Galifianakis and Sam Elliot, were beneficial to the film. Despite the level of excellence the entire cast provides there are still a couple standout performances in the film. One was given by Anna Kendrick, a virtually unknown actress, was amazing and perfect for the role of Natalie. It was very entertaining to watch her in this film, especially during all of the scenes in which her character and Ryan were on the road together. She applied herself to the fullest extent to the role and made a character, that you wanted to dislike at first, very loveable. Kendrick has recently been nominated for her supporting role in this film. Vera Farmiga has also been nominated for her supporting role in the film, though she doesn't quite stand out as much as Kendrick does, she does still give a very good performance as Alex, who as she puts it in the film, "is Ryan but with a vagina." But, in my opinion, by far the best performance in the film, quite possibly the best performance of the year, and even more possible the best performance of his career, was that given by George Clooney. An actor who I have always liked, not necessarily an actor who I will go see a movie just because he is in it, but also not an actor who I will avoid going to see, was outstanding!! There really isn't a whole lot I can say about the performance because it was just that good, you have to go see this film just to see the performance that he gives. How he could make a guy that fires people for a living and has a horrible philosophy on life could make him so loveable I will never understand. But Clooney did it. He took the role of Ryan Bingham and made me fall in love with him. One particular part of the film I truly felt hurt for the guy. Clooney brought a great mix of humor, sadness, awkwardness to this role. As far as I'm concerned, this is the best performance he has ever given in a film, but that is just my opinion so please go watch this film if for nothing else just to see Clooney's performance. But I can promise you that the other actors in the film will grab your attention as well.
Jason Reitman is a virtually new director, only busting onto the scene in 2005 with Thank You For Smoking, which starred Aaron Eckhart in his best performance, and then he grabbed even more people's attention in 2007 with the breakout film, Juno. Though he hasn't done many movies yet he is easily right up there as one of my favorite directors. As I said earlier, Thank You for Smoking is one of my all-time favorite comedies and quite frankly one of my favorite movies, and Juno was also an outstanding film. Up In The Air gets added to the list of remarkable films that Reitman has brought us and I think this film will take him to the next step. He could possibly win every award with this film and quite honestly I wouldn't argue if it did, it's that good. Up In The Air is based on a book, of the same title, written by Walter Kim. Reitman has been working on the screenplay for the film since 2002, before he had released his first full length feature film. The many years that he took perfecting the script and making it exactly the way he wanted it to, along with different changes in styles, truly paid off as he has delivered with a truly amazing and unforgettable film.
This is a film that I was really wanting to see based on all of the nominations it was receiving and after reading many positive reviews online for the film and for the acting in the film and based on the fact that I have loved the other two films that Reitman has directed. Despite my love for the other Reitman films and all of the positive reviews, I still wasn't expecting to see a film this amazing or performances at the level of the ones given in this film. Anna Kendrick and George Clooney blew me away!!! Anna Kendrick is an up and coming actress who I will be watching out for a lot more in upcoming films, aside from any of the other Twilight Saga films of course. This is a film that I feel will be a strong contender come award season and it's a film that many people will enjoy. I recommend it to everyone once again if for nothing else just to see the wonderful acting in the film. Jason Reitman is an up and coming director who I think cemented himself in as one of the top young directors with this film. Must see film and one of the best of 2009 for sure!!!
4.5 stars out of 5