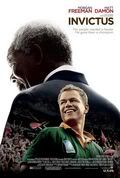 Clint Eastwood is at it again! This time the director brings us a biographical film about former President of South Africa Nelson Mandela titled Invictus. The film is set in mid-90's South Africa and stars Morgan Freeman (The Shawshank Redemption, Million Dollar Baby) as Mandela and Matt Damon (The Bourne Series, Good Will Hunting) as Francois Pienaar, the captain of the South African Rugby team. The film is based on a book entitled Playing The Enemy: Nelson Mandela and the Game That Changed A Nation.
The film begins when Nelson Mandela (Freeman) is released from prison in 1990, where he spent twenty-seven years of his life. Immediately following his release from prison, he started working to bring democracy to South Africa and creating elections in which the black community could participate in. In 1994, just four years after his release from prison, Nelson Mandela was elected as President of South Africa. Despite all of his efforts though there is still a lot of racial tension in the country. You can see the evidence of that in Mandela's security team alone, a team that consists of black and white members that have trouble getting along. While attending a Springboks, the South African Rugby team, game Mandela notices that all of the white people in the crowd were cheering for the South African team and all of the black people were cheering for the opposing team. For many years the black people of the country has seen the players and the colors of the Springboks as a sign of prejudice. Mandela convinces the South African Rugby board not to change the name of the colors of the team and then meets with the teams captain Francois Pienaar (Damon). Nelson's plan is to use Pienaar and the team as way to unify the country. He feels that if the team can unite and overcome all odds and win the upcoming World Cup that it will help to unify the country and bring all of the citizens together as one. Do Mandela and Francois accomplish their goal and unify South Africa through a sport?? It's up to you to take the initiative to watch this moving film about the struggles to unify a country that doesn't want to be unified.
Clint Eastwood is the amazing director that has brought us many great films that includes Million Dollar Baby, a film with which he won Best Director and Best Picture at the 2004 Oscars and just last year he brought us a film in which he also starred in, Gran Torino. A film that I feel should have gotten nominations for everything in last year's Oscars. But he was shut out of all nominations as far as directing and again didn't win the one thing that he has longed for his entire career, the award for Best Actor. He has enjoyed great success as a director and always delivers a great film. Invictus is yet another film to add to his list of great films and it's also a film that I feel could be a big player in this year's award season. He has already garnered a best director nomination at the Golden Globes. With Invictus, Eastwood shows us what a great man did to bring a country together. He shows us that sports can bring virtually anyone together no matter what the odds are. Clint Eastwood is a director whose films I look forward to watching and I look forward to seeing what he brings to us next.
One thing that Eastwood has been good at while directing film has been bringing together an amazing cast. He continues that with Invictus as he brought together Morgan Freeman, one of my all time favorite actors and a true legend, and Matt Damon, another favorite of mine. Morgan Freeman delivers what could be the performance of a lifetime as Nelson Mandela, which are big shoes to have to fill. I won't go as far as saying this is his best performance ever, but it was still an amazing performance nonetheless and one I can't really say a whole lot about. Morgan Freeman has recently been awarded a nomination for his performance in this role at the Golden Globes and I believe this nomination will carry over to the Oscars as well. A performance that I feel definitely should have been nominated for best supporting actor at the Globes was given by Matt Damon, something I hope is corrected by the Oscars and he is given the nomination by them. Damon was amazing in this film! This is a performance that I could probably say would be his best, maybe not my favorite but could be considered his best nonetheless. First noticeable thing about the performance is his accent, an accent that didn't seem forced at all, it actually seemed like a natural accent. Damon took on a lot when he took on this role, just as with Freeman. He had to take the role of Francois Pienaar, a man that along with Mandela tried to unify an entire country, but he also had to unify his team and take on leadership responsibilities that a man isn't used to and few men could step up to. Damon took this role, applied himself to the greatest extent and delivered. It truly was a treat to see on the screen.
Invictus shows the viewer how important a sport can be to a country. It shows what one man can do by showing the leadership and the courage to bring a team together, which in turn, brings an entire country together. I was very happy with the film as a whole and had all expectations met. Watching this story of a great man using a sport to bring a country together was truly a site to see and was very moving. The things that Nelson Mandela did in just a short time after being released from prison are truly amazing.
4 out of 5 stars