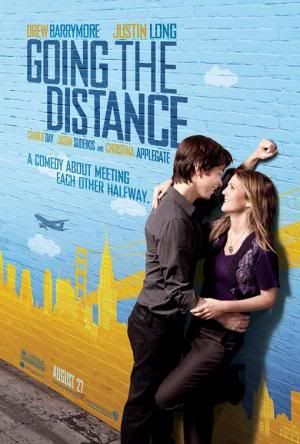 Going The Distance is a 2010 romantic comedy directed by Nanette Burstein. It stars Justin Long(Jeepers Creepers, Waiting, Accepted) and Drew Barrymore(The Wedding Singer, Ever After, Scream) as a couple who tries a long distance relationship as he lives in New York and she lives in San Francisco.
Erin(Barrymore) is a 30 something woman working a temporary job as an intern for a newspaper in New York. While out with some friends she meets Garrett(Long) who works for a record label in New York. These two have a nice night together and decide to start "casually" dating each other both knowing that in 6 weeks Erin's job would be over and she would have to go back to San Francisco. But as we all know that doesn't always work out, these two start having stronger feelings for one another and Erin tries getting the newspaper to hire her full time, with no luck. After the 6 weeks is over, Garrett takes Erin to the airport and he reveals that he is crazy for her and he would like to continue dating long distance. She agrees and they continue by spending their days and nights talking on the phone, texting each other, and trying to figure out when one of them can fly out to see the other.
The film at this point starts becoming even more predictable, not that it wasn't before, but you really begin to know exactly what is going to happen. This was one of the main issues with the film, the predictability, and there was nothing thrown at us that counterbalanced that. There was some great humor, mostly delivered by Garrett's friends Dan and Box, played by Charlie Day(Horrible Bosses) and Jason Sudeikis(Horrible Bosses and Hall Pass), but even that felt a little overly raunchy at times, almost felt like it was trying to be too much like an Apatow film.
The chemistry between Justin Long and Drew Barrymore was fantastic to watch and it's sad that it was wasted. The two really flowed well and worked amazing together, it was very believable that these two characters were truly in love and wanted to make the best of their situation and that was all Long and Barrymore.
Despite the fun that I had watching these two work together on the screen it just wasn't enough to save a flat and very predictable film. The film is still a nice little watch though as it really is a nice story of love and what someone will do to have that emotional connection with someone that they love. It's also worth the watch if you just want to see two talented actors with a great dynamic on screen that we don't get too often in romantic comedies. Just don't expect an incredible movie because it's not that. It's just a predictable romantic comedy with some fantastic chemistry by the two leads.