Crime starters – I love mob movies. Sure, it's been awhile since we had a really good one to sink our teeth in, but that's mostly because this has never been a genre you want to oversaturate. Instead you want to forget about them until something like "Black Mass" is released.  Then and only then you will reengage and remember what it's like to sit through one of these amazing stories. They may or may not always be based on real events, but that won't deter from the pure enjoyment you will have watching the drama play out on the big screen.
What's it about? Based on the 2001 book by Dick Lehr, Black Mass: The True Story of an Unholy Alliance Between the FBI and the Irish Mob, the story here follows one James 'Whitey' Bulger (Johnny Depp) and his notorious mob career in Boston, Ma. In charge of what was known as the Winter Hill Gang, Whitey operated primarily out of South Boston with the help of guys like Stephen "The Rifleman" Flemmi (Rory Cochrane), Kevin Weeks (Jesse Plemons) and Johnny Martorano (W. Earl Brown). And for a while, Whitey really never overstepped his boundaries, but after the sudden death of his son and losing his mother, Whitey sort of flew off the rails. It was then his old childhood friend John Connolly's (Joel Edgerton) plan started to take off. The deal was for Whitey to help Connolly take down another local crime gang, the Angiulo Brothers. But in doing so, Whitey become an informant, something he had a hard time accepting given the restrictions it put on him. Restrictions like killing, which Whitey eventually dismissed in order to move his own agenda forward creating a cluster of issues for everyone involved given the amount of bodies that started to pile up.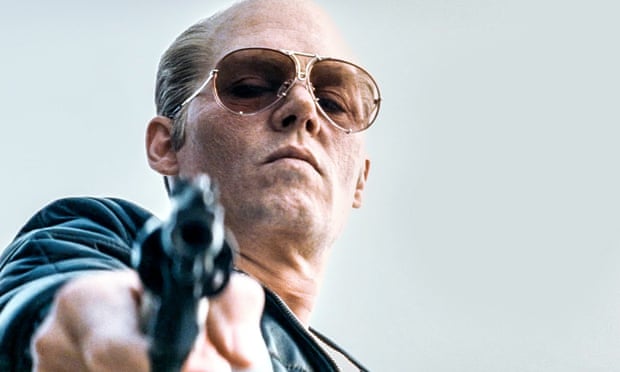 Who was in it? You can't really introduce someone like Johnny Depp, but I will say I have never seen him like this before. I know, you could probably say that about half the movies he is in, but honestly, he was different here playing the role of Whitey Bulger. Depp completely transforms into the character and here it was scary how real he was playing Bulger. Maybe it was the hair, but he was Whitey in every way you could imagine leaving me to think an Oscar nomination might be on the horizon given all the highs and lows of his character. But, while it might have been Depp's show, he did have a fairly decent supporting cast including the likes of Kevin Bacon, Corey Stoll, Benedict Cumberbatch and Peter Sarsgaard. Especially Cumberbatch, who even in small moments manages to take over the screen showing why he has been one of the most coveted actors in recent years. Having said, the one member to this cast which if anything threw in an assist to Depp was Joel Edgerton. Here is a guy you almost have to talk yourself into liking, but the more you watch him work in this film as John Connolly the more you become impressed with what he was doing.
Scott-ish pride – Sometimes a project just has to go through hell before finally making it to the big screen. And that doesn't mean it will be good as all too often the so-called hell it went through affects the outcome in some way. It's a fact, which is why I commend director Scott Cooper for trusting his writers so much with Whitey Bulger's story. Sure there's a lot of dialogue and killing, but that's par for the course in this genre. I certainly didn't mind given how compelling of story this was, making me want to go watch the 2014 documentary "Whitey: United States of America v. James J. Bulger" next.  Just the fact it took nearly 15 years for a full feature film to come out really speaks volumes to the work of producer Brian Oliver who never let this idea die since first getting the rights to it in 2006. Yeah there were some re-writes and change of guard when it came to direction, but eventually he found his guy in Scott Cooper. What a hire and one that should continue to pay off as we move forward into award season.
Bottom Line – "Black Mass" may not be what you think or want it to be, but that's actually a good thing. All too often we get caught up with the next big blockbuster or series, losing sight that a story like the one here is waiting to be told.  So kudos to Scott Cooper and his producer's for finally getting this done, as it certainly felt like it was worth the proverbial wait.
B