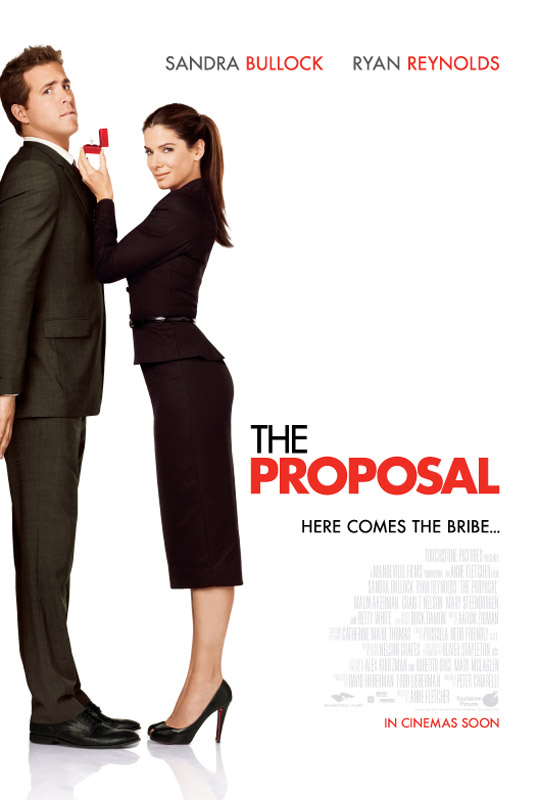 What You're In For: An unlikeable boss gets a taste of her own medicine when she learns that her U.S. visa is revoked and will be deported back to Canada. In order to save herself from deportation and to keep her job, she manipulates her male personal assistant to marry her by playing him into a bribe.
The Actors: Sandra Bullock, Ryan Reynolds,Betty White, Craig T.Nelson and Malin Ackerman
The Director: Anne Fletcher
On An Added Note: Look out for the cute white pooch!
From Miss Congeniality To Unlikeable Boss
We loved her in the surprise 2000 comedy hit "Miss Congeniality". Now, it's time to love her again in another surprise comedy hit of 2009. Sandra Bullock may play the boss from hell, the boss you love-to-loathe in this rom-com but scarcely does her portrayal seem to draw malice and pure disdain as one might remember from another such character in "The Devil Wears Prada". Her role as Margaret Tate may come off slightly evil in the first few scenes but not to the extent where you wish you could slap her hard. Her nastiness does not even reach far as I might conclude since the only harsh thing she ever did was fire a staff on a trivial basis and perhaps, forcing her male P.A. (Ryan Reynolds) to marry her.
A Simple Storyline With Full-On Wit
The story begins when Margaret Tate finds out she would face deportation and is unable to deal with that that she swiftly and brashly makes a decision to marry her male P.A. whom like the rest of his colleagues, hates her. At first, her plan doesn't hit off with Andrew Paxton but soon he succumbs to a bribe which she finally and reluctantly offers- Andrew would become editor and his manuscript published after their quickie marriage and quickie divorce. In order for her devious little plan to work out, she must first participate in one big obstacle course before she is able to be married to Andrew. The two must be interviewed by the officer of marriages about every aspect of the couple. Given the weekend to get to know each other, the "couple" cook up that their engagement would coincidentally be held on that weekend itself. Although it raises some suspicion, the officer relents. Hence, begins the "couple's" big plan.
As Andrew proposes that this plan would work only to his liking, Margaret now has to buy in to his every whims and fancy including travelling all the way to his hometown in Alaska called Sittca to carry out their faux engagement. This is also partly due to the fact that Margaret does not have any family to call her own. Throughout the weekend, Andrew becomes acquainted with the very idea of verbally torturing and belittling his boss in any way possible. Margaret on the other hand does not find it amusing at all but is forced to play along.
Once they touch down in Sittca, a quaint little Alaskan town that Margaret soon discovers is filled with Andrew's family businesses, she steps into a new life that she thought at first would be a breeze to pull off. She enters the life of a wealthy but modest family who immediately accepts Margaret with open arms. Both Andrew's mother and grandmother are delighted that their only son is getting married but it is less than perfect news to his father who has great expectations of him as well as senses something wrong with Andrew's sudden engagement to the boss he once hated.
In two days short, both Andrew and Margaret have to learn up everything about one another and at the same time portray the loving couple that Andrew's family is expecting from them. And in those two short days, the expected gags, slapsticks and witty moments come on board.
There's Everything To Love About This Movie And Then Some
With a tagline 'Here Comes The Bribe', the audiences can be sure that's not where the wittiness abruptly ends. The lines in this movie hit the right spots, delivering a refreshing brew of comedy to us. Almost all the characters are able to capture the laughters nicely. From the overzealous Grandma Annie to the creepy male stripper who juggles many professions, "The Proposal" is a nice relief from the sappy romance-cum- comedy fims that we have been seeing so much as of late. Not to dearly forget, the adorable little pooch that becomes a menace to Margaret but to us is a delight and an aww-loaded few scenes.
There's though, so much one can say about the relative comedic touch this movie is able to pull off. Even with great lines and averagely fair acting, "The Proposal" fails when it comes to chemistry between Reynolds and Bullock. Their already gimmicky faux wedding becomes even more so with their less than impressive show of chemistry between the two. A great deal of the film is focused on getting to the point but it becomes disjointed when it comes to the real deal that is suppose to exist for the two. It is also rather hard to believe that after all those name calling and constant banters would Andrew ever fall in love with his boss. Who would have known that even happened until Reynolds says so?
Watch It Or Trash It?
A light-hearted comedy that is fun for everyone. No sick, perverted jokes. Just pure clean fun (minus the striptease and the awkward nude run-in.The movie might be missing a few good parts and is considerably all too predictable but for a comedy, this is a breath of fresh air.