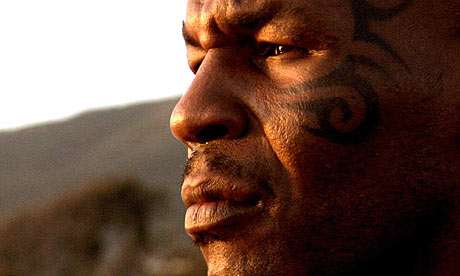 He was once the most feared man in the world of professional boxing. His stare would quickly intimidate his opponents before he would unleash a merciless attack of thunderous blows upon them. He was a kid from the mean streets of Brooklyn that would rise to heights of fame and wealth that only few could imagine. His stay at the top of the world would not last forever as overconfidence, prison, bad management and erratic behavior would cause this icon's perfect world to crumble. This is the life of Mike Tyson.
      Tyson, a new documentary written and directed by James Toback (The Pick-Up Artist), uses a combination of archive footage, photographs and personal interviews with Mike Tyson to tell his life story. Mike discusses all aspects of his life: childhood, training to be a boxer as a teenager, his relationship with his mentor Cus D'Amato, becoming the youngest world heavyweight champion in the history of boxing, his shocking loss to underdog Buster Douglas, the breakup of his marriage to actress Robin Givens, going to prison for rape, his comeback and the disgraceful way his career ended. Mike "pulls no punches" as he shares his feelings about how he went from being "The Baddest Man on the Planet" to the punchline of jokes.
     When you listen to Mike describe his childhood, you may have a greater understanding why he grew up to be the uncontrollably-angry man that he is. When he gives his opinions about Desiree Washington, the woman he went to prison for raping, you may be left shaking your head. When Mike reveals why he lost control and tried to bite off Evander Holyfield's ear in their famous 1997 match, you may feel that Tyson really is a fool. Finally, if you have any respect left for this former great boxing champion, it may be lost when Mike explains why he fought his final three matches and why he wasn't beaten so badly. While Mike's words may not change your view of him, he is honest and sincere about his life. While James Toback's presentation of Mike Tyson's life is compelling, there are times when the pace slows down and you feel like you're watching a boxing match with a lot of dancing and not much hitting.
     For people looking for an engrossing "rags-to-riches" story, filled with many successes and many more embarrassing failures, Tyson will satisfy your desires. For people that are already familiar with "Iron" Mike's story, Tyson does not offer much new insight into this complicated man.